Lacking an internet connection is not an excuse for players not to enjoy solving Sudoku puzzles. Or even to learn new strategies that will take them a step closer to master the hardest grids. Selecting and enjoying some of the best sudoku books out there can prove to be more insightful and educational than hours spent on the internet.
With books, players have to take a hands-on approach, actively writing down the candidates and striving to be clear and clean with their notes and numbers. They can also solve them more calmly and without stressing about the time as they can always go back to that particular challenge at a later time.
Whenever online playing or learning is not an option, these are the best Sudoku books to enjoy a challenging offline moment, anywhere, and anytime.
The best Sudoku books to help you master the game
Mastering Sudoku Week by Week: 52 Steps to Becoming a Sudoku Wizard by Paul Stephens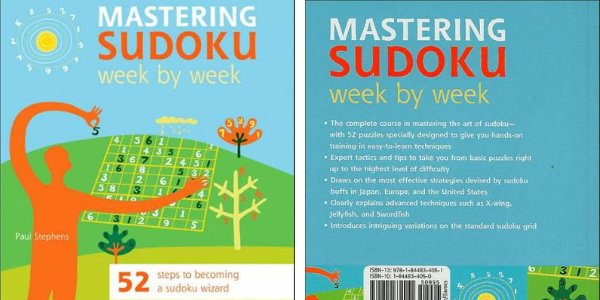 In his book, Paul Stephens offers clear and easy to understand explanations of all the main strategies used in Sudoku while providing readers with the necessary tools to solve even the most challenging grids without any effort.
The strategies are divided into a course of 52 lessons, one per week – the equivalent of a year – allowing readers to efficiently structure their learning process and giving them time to digest every concept before moving into a new one.
Sudoku: Its Power Unleashed by David Klein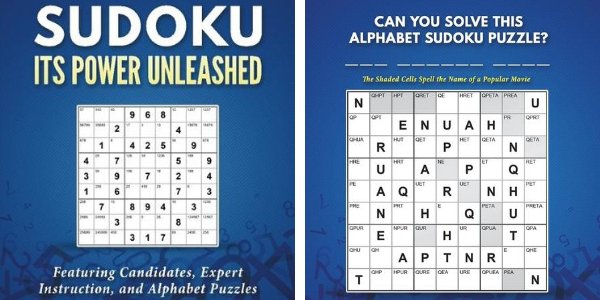 Sudoku: Its Power Unleashed starts with the most accessible strategies and grids and slowly progresses into the hardest puzzles without forgetting the intermediate levels.
The author takes a hands-on approach, teaching every technique with the support of grids partially filled with candidates so the readers can practice their pattern-finding skills at the same time they learn the theory behind each strategy.
At the end of each lesson, Klein also provides clean puzzles without any candidates so that readers can put their new knowledge to the test from scratch.
Taking Sudoku Seriously: The Math Behind the World's Most Popular Pencil Puzzle by Jason Rosenhouse and Laura Taalman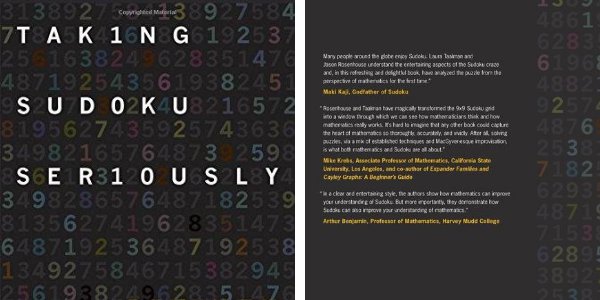 This book combines the love for Sudoku puzzles with a passion for mathematics.
Taking this number brain teaser as the basis, the authors dwell into the mathematics (i.e., logic) behind Sudoku puzzles in a fun and light way that manages to be simultaneously comprehensive.
This book is an invitation for a tour around the beauty and simplicity of Sudoku and mathematics and is accessible to everyone. An example of pop-math at its best.
Mensa Guide to Solving Sudoku: Hundreds of Puzzles Plus Techniques to Help You Crack Them All, by Peter Gordon and Frank Longo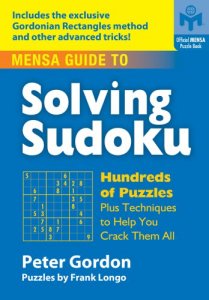 Mensa is an international non-profit organization only open to individuals with the highest IQ scores in society. Its guide is not only one of the most prestigious but also one of the best Sudoku books to learn everything there is to know about the game.
It offers a comprehensive, detailed, and extensive analysis of every Sudoku strategy. These are presented in order, according to their difficulty level, and are divided by types and family for a more precise understanding (e.g., eliminations, fish strategies, forcing chains, etc.)
Includes 789 puzzles guaranteed to be solved using the learned techniques.
Best Sudoku books to enjoy your puzzle addiction
Big Book of Sudoku: Over 500 Puzzles & Solutions, Easy to Hard Puzzles for Adults by Parragon Books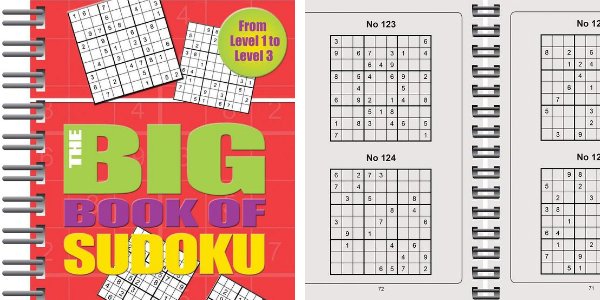 Released in 2018, this puzzle book by Parragon Books has become one of the publisher's bestsellers and remains a top pick among Sudoku lovers even today.
It offers 540 challenging puzzles divided into four difficulty categories (Warm-up, Challenging, Tough, and Samurai), as well as their solutions.
What makes it a crowd-pleaser and to stand out from its competitors, it's the books' reasonable price, lightweight format, and the fact it Is spiral-bound, which allows the player to lay it flat, hold it more comfortably, or to remove completed pages.
Funster 1,000+ Sudoku Puzzles Easy to Hard: Sudoku puzzle book for adults by Charles Timmerman (Funster founder)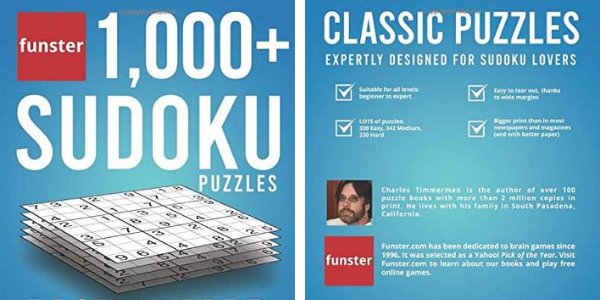 For players looking for quality and quantity, Funster offers one of the best Sudoku books that fill all the requirements.
The book is divided into 330 easy, 343 medium, and 330 hard puzzles, accounting for 1003 challenges that are bound to keep any player entertained for a long time. The author crafted every puzzle carefully, ensuring that the solution can only be attained by logic and that no level of guessing is required to complete them.
The book also has the added benefit of large printed grids and wide margins for players to have enough space for writing down candidates without cluttering them. The paper was also selected to be practical and lightweight while being robust enough to endure pencil erasing without tearing.
Beyond Black Belt Sudoku by Frank Longo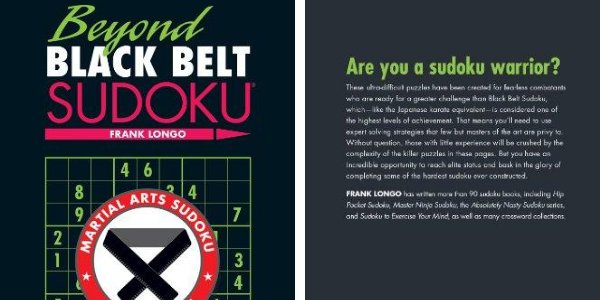 Frank Longo, one of the authors of the Mensa's Sudoku guide book, crafted the ultimate Sudoku challenges for diehard fans who are or believe to be masters of these brain teasers.
In its Martial Arts Puzzle Series, Longo offers some of the hardest Sudoku puzzles available online or offline, with each grid being handcrafted by the author, according to the Japanese tradition.
Beyond Black Belt Sudoku comes with 300 puzzles that will genuinely put the player's skills to the test, printed in high-quality paper. The book has two grids per page, ensuring enough space for the player to take notes.
The author also provides an introductory note with a quick description of the main strategies necessary to solve these puzzles.
Brain Games - Relax and Solve: Sudoku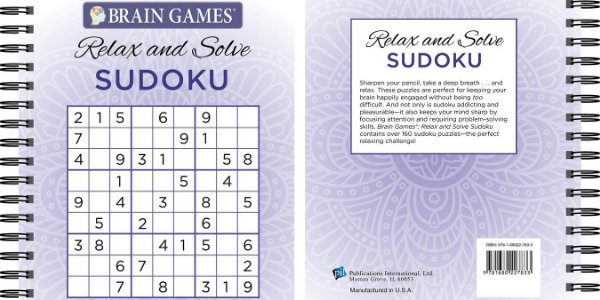 As its name hints at, this book is perfect for relaxation. It comes with 161 puzzles, ranging from easy to medium level that are still stimulating and challenging while abstaining from being too demanding.
It is ideal for players who enjoy solving Sudoku at night or in a relaxing environment when trying to wind down after a stressful and tiring day.
Additionally, the book has only one grid per page to be big enough not to strain the eyes.
The Tao of Sudoku: Yoga for the Brain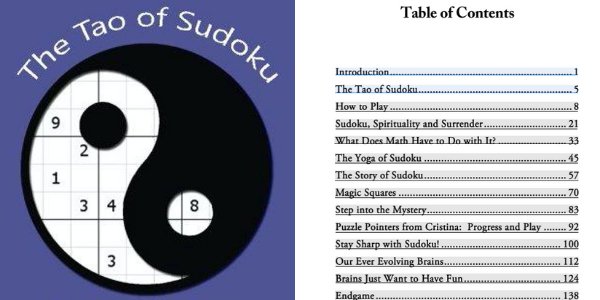 The Tao of Sudoku promises to stretch the player's mind, nourish their soul, and touch their heart. Even though it might sound strange to achieve these goals using Sudoku, it accomplishes it so well that it is now an award-winning publication and one of the best Sudoku books in the relaxing category.
It offers a well-balanced and exciting blend of challenging puzzles, inspiring quotes, fun facts, and light educational philosophy. Sudoku is converted into a meditation session of self-realization flawlessly.
An interesting approach that players can put to the test in the 100 easy puzzles it offers.